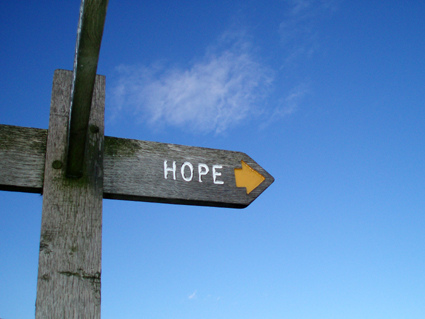 Not the maybe, kinda, sort of, middle school guy hoping the girl he has a crush on will ask him out to the Sadie Hawkins dance (or banquet for us IFBer's) type of hope. Hope in the Bible springs from faith. Hope is not the prospect that something might happen, but rather it is the expectation that whatever has been promised will happen.
Now the God of hope fill you with all joy and peace in believing, that ye may abound in hope, through the power of the Holy Ghost.

Romans 15:13
Paul couches this talk of hope in the Gospel. The announcement of the Lord and Christ, Jesus, is our hope. He makes the winter of this life bearable, and not only bearable, but full of both joy and peace.
The grandeur of the Gospel is that our hope in Christ is not mere escapism. For many years, that's exactly what I thought though. I had trusted Christ and His finished work on the cross, and someday I would escape all of the messiness of this life in heaven. I had latched onto redemption. Christ did die for my sins, God's wrath was justly out on Him, and by faith, I was given His righteousness (goodness), and justified (that is, declared righteous or good). The Gospel is certainly not less than that. Redemption is a glorious theme, but it is not alone. Redemption has a twin.
What I had missed with another key theme of the Bible–restoration. The Gospel is about my personal redemption, but it is also about my personal restoration, and not just my restoration, but that of everything. Christ will one day set everything right. I will no longer struggle with my old nature in a never-ending battle. The image of God will not always be obscured by my own darkness. I will no longer succumb to the lumbering march towards frailty and fatality. Creation will not just be spared the results of the curse and sin, but it will be fixed.
And we know that all things work together for good to them that love God, to them who are the called according to his purpose.

Romans 8:28
Our hope is not that through Christ we will escape, but it is that through Christ all things will be made new. Eternity in the presence of God will be all the much sweeter because of, not despite, the winter that we have walked through. Through every disappointment, in the midst of every despair, we eagerly look towards that day with hope. With Christ, we will never feel the sting of: "Always winter, but never Christmas."
---
Photo Credit: (Pol sifter–Creative Commons) http://www.flickr.com/photos/polsifter/4047982682/